Our Members are awesome!
Come Join Us!
Robert and Lesha
Lesha
Born and raised in Ohio, I skedaddled to the West Coast after college.  I've lived in seven cities/three countries since that time but Portland (where I lived at the beginning of the century) has always felt like my "heart home." It will be exciting to return and to live in an entirely different area of the city. I am enjoying exploring what awaits in the Cathedral Park/St Johns community.
I am an avid walker so my perfect day would definitely involve getting some miles in, hopefully while enjoying some beautiful scenery and either a conversation or a podcast. A nap would be quite wonderful as well – although that is something I often promise myself but don't deliver on.   A little mental challenge from a crossword, jigsaw puzzle, or sudoku is always welcome. And doing any or all of that in the company of my partner, my cat and/or friends would put a cherry on it.
I want to say that I'd like to learn to garden but I really think that is just a pipe dream because I'm not sure I have the patience!
Robert
I grew up in Montréal, Québec, before embarking on a journey that would take me to Colorado in the United States and the southwest of France, finally settling in the natural beauty of Cascadia. Professionally, I am a scientist interested in furthering our understanding of weather and climate, and creating a more sustainable society. I have lived a car-free lifestyle for most of my life and have always enjoyed living in vibrant "European-style" urban neighborhoods with nearby boulangeries and cafés. A perfect day would start with a tasty croissant or bagel and nicely brewed coffee, followed by a stroll along tree-lined streets hand-in-hand with Lesha, stops in local funky shops and cafes, hiking a trail along the coast, and ending with a show by Nick Cave and the Bad Seeds in a funky historic venue.
I'd like to learn how to play a musical instrument again (piano, drums, bandoneon), as a conduit for artistic expression.
Claudia M.
I grew up just south of Los Angeles, in Palos Verdes, a peninsula overlooking the Pacific.  But my real home is Montana, Big Sky Country, where I spent 45 years.  I have been in Portland, close to family, since late 2013.  There are many versions of a perfect day, but one would include an early morning bird walk, some quiet time reading, practicing yoga, a stint in the garden pruning or planting or harvesting, and ending with yummy food shared with family or a good friend or two. Another version:  time with my grandsons!   If I had more time, I would love to learn – Sanskrit, more advanced knitting, playing an instrument, poetry classes, etymology.  I am forever curious and wanting to know more!  My favorite food is home cooked; my go-to is a taco made with whatever is in the house!
Megan D. and Xavier
We are a mother-son team who are native to Portland, Oregon. Megan is a proud mother and advocate for autism awareness and a co-owner of a small business handcrafting elderberry products – roserootpdx.com. Xavier is an awesome, friendly, and intelligent young man who is incredibly knowledgeable and talented when it comes to music, audio engineering and music production. He enjoys his free time as a part time Youtuber, practicing voice acting, playing bass and video games.
Camilla S.
I grew up in Oklahoma, and have lived in Chicago, the Bronx, Minneapolis, Washington, DC, San Francisco for 50 years, and now Portland.
My best kind of day is any day spent in a peaceful, sunshiny place—beach or mountains—with friends.
I have always wanted to learn to play the piano, ever since I was a little girl!
My favorite foods are mashed potatoes and fried chicken.
I would love to learn from a historian about the ways is important to what's happening in our democracy today.
Alicia D. and Neva S.
Hi! I'm Alicia and this is my daughter, Neva. Originally from Iowa, I've been in Oregon since 1990 and in Portland almost that entire time. I love to ride my bicycle long distances, surround myself with beautiful things (art, music, or nature), and eat, drink, and be merry with friends. I am looking forward to more time to paint and I would love to have a mentor to teach me more about color, materials, and technique.
Neva is a Portland native whose interests are wide ranging from watching baseball, eating Fritos and listening to opera. She has a love for delicious food, the outdoors, excitement, and music and looks forward to hosting Friday night pizza and dance parties in the community room.
We both look forward to living in a community that learns and laughs together!
Hank M.
Hi, I'm Hank. I grew up near Forest Park in Portland, Oregon. I live on a farm outside of Portland with my parents now. I love to read books and listen to podcasts. I like to watch movies with my family and eat out. I love sushi! I also like going to historical museums. I'm sixteen right now and I would like to learn how to survive adulthood. I am an autistic Jewish queer atheist.
Rick C., Lisa S., and Elijah
Rick enjoys the quiet of natural settings and the beauty of diverse communities. He loves hiking, backpacking and fishing. He also enjoys reading, browsing in bookstores, and traveling. He is more of a quiet generalist, but enjoys working with groups, wordsmithing, tinkering, and delving into topics around spirituality, ending racism and climate change. Lisa loves hanging out with her family/friends – hiking, traveling and learning together. One of her favorite interests is policy work in the legislature. She enjoys playing flute with classical/Irish ensembles and loves traveling abroad. She is committed to using her white privilege to end systematic racism.
Our son, Elijah, is inspired by innovation, beautiful engineering, fine cars, history, current events and amphibious pedal vehicles. Our daughter, Albany, just started college out of state in August 2021. She is inspired by space flight, science, social justice, the environment and more. She also loves dogs/cats, surfing and traveling. We work daily to honor them and their paths.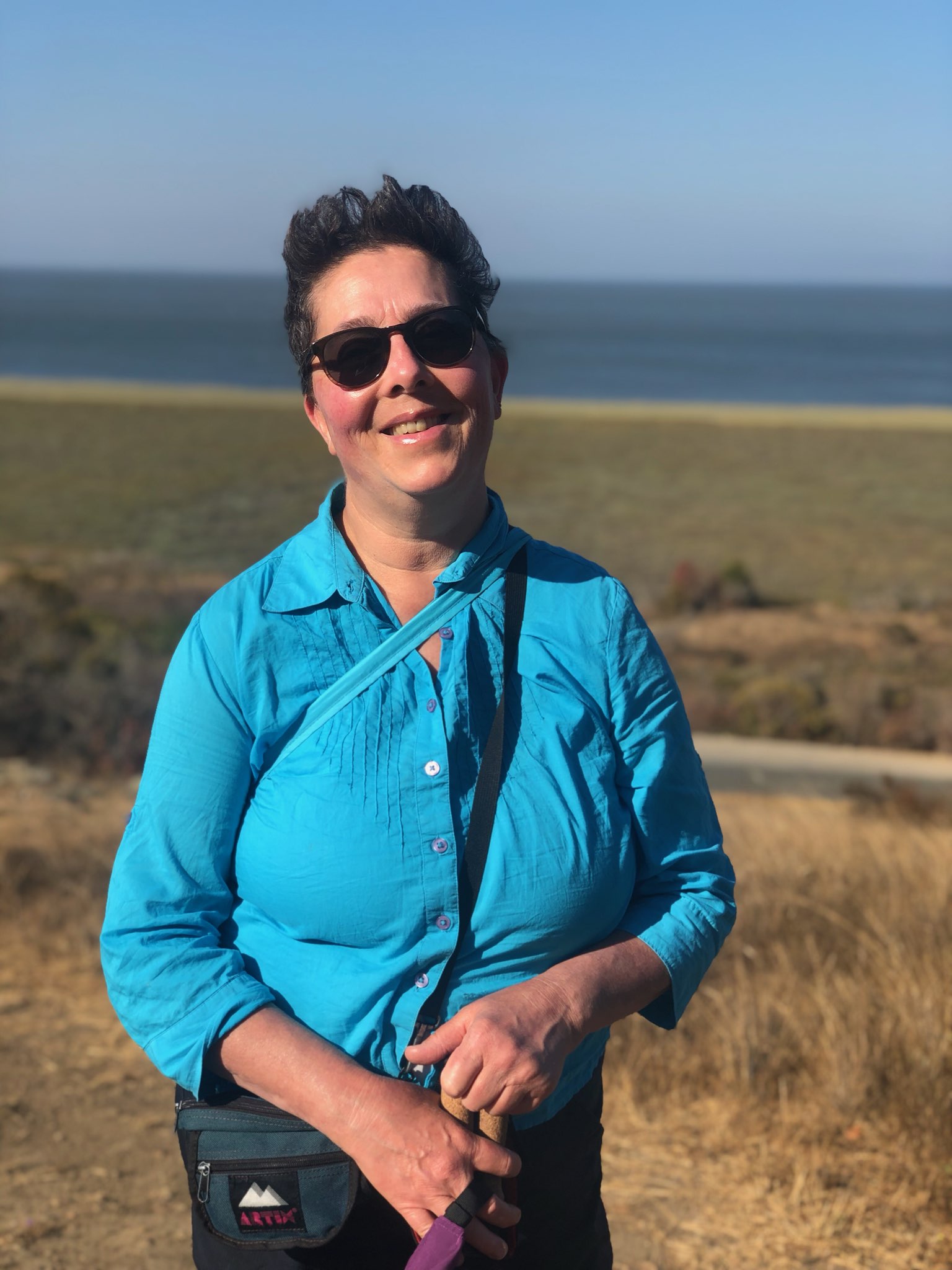 Rebecca H.
I grew up in Detroit but have lived in the SF Bay Area for a long time. A perfect day would be an invigorating hike which doesn't involve a long car ride nor crowds of humans, accompanied by one or a small group of friends. I wish that I had more time for books, podcasts, exercise and time in nature. I enjoy many foods & cuisines so it's hard to choose a favorite but I really appreciate seasonal produce from the farmers market. And I love bread! I would like to learn to successfully complete small home repairs and improvements and also increase my very basic command of Portuguese.

Marie B.
I have lived in the same house in Portland, Oregon since I was born. My perfect day is when it is sunny outside and I am hiking at Tryon Creek, creating clay pieces, and eating my favorite foods. My favorite hobby is working on my art. My top two favorite foods are mac & cheese and ice cream. I want to learn from an expert how to market my colorful art. I'm looking forward to community game nights and being with everyone.
Colleen N.
Hi, I'm Colleen. I grew up in Illinois along the bluffs of the Mississippi River and in the rolling hills of central Iowa. There's nothing better than spending a day hiking along a mountain lake with spring wildflowers all around. I've always wanted to learn to play the piano. I love baking rhubarb pies. I wish someone could teach me how to make a major difference for the environment.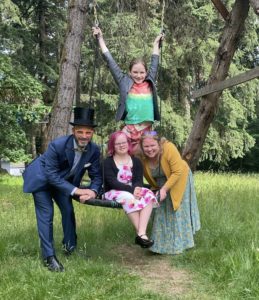 Adara M. (Abby, David, and Corwin)
Abby: I grew up in Vermont's Northeast Kingdom, the most rural corner of a rural state. After living a lot of other places in my late teens and twenties, I had moved back for good when I fell in love with someone on the wrong side of the country, and I've made Oregon and Southwest Washington home since 2004.
A perfect day begins with a crossword puzzle in a quiet house, and ends with a good novel in bed. In between, I would walk in a beautiful place, preferably treed, preferably with a great conversationalist or two. I would eat good food, play a board game or two, and not think once about laundry, dishes or dirty floors.
I have taken a few baby steps into making inks from plants (oak galls, lichen, beets, flower petals), and I would love to have more time to devote to this.
I love all food. But really, I'm a sucker for a good bowl of homemade soup with crusty buttered sourdough.
I love learning from anyone with a deep knowledge base in what they love. I love to be surprised when someone else's passion lights me up for something I never thought I would be interested in. I am not a great student, but I like to think I'm still open to learning new things.
David: I grew up in SW and NW Portland.
My perfect day would be spent on the banks of the Deschutes River in central Oregon with a fly rod, with the steelhead biting. I would love to learn the art of chainsaw sculpture.
If you value your shortbread cookies, don't leave them anywhere near me
I would love to spend more time in the woods with a skilled tree-faller, learning how to precisely land a tree.
Debbie C.
Hi!  I'm Debbie, Lindsey's Mom. Lindsey and I plan to be roommates at Cathedral Park Cohousing. I grew up in a small steel town in southern Ohio, and after college, made my way across the country, spending time in LA, Portland, San Francisco, Honolulu, and back to Chicago. But when I left Portland, I left my heart here.  So, after 18 years in Chicago, I came back to Portland for good!  I am a retired dietitian so will talk food with anyone anytime.  My favorite food is green with some other bright colors sprinkled in.  But I must admit I do have a sweet tooth.  I have been studying Spanish for 4 years and maybe in another 4 years I might become fluent.   A perfect day would include a forest hike with a friend for some nonstop conversation, or not. Then I would enjoy some time to study a little Spanish, eat some yummy food, catch up on the current news, and take a nighttime walk around the neighborhood.  After I have become fluent in Spanish, I would like to learn how to play the piano…picking up from my lessons as a kid.  Wonder if The University of Portland, down the road from Cathedral Park Cohousing, rents out practice rooms?
Lindsey C.
I was born in Honolulu and lived there until I was 11 yrs old. Then I moved to Glenview, IL, a northern suburb of Chicago where I lived until I was 28 yrs old. My perfect day would be to be up at 9ish and take a walk down Alberta Street for coffee and a pastry at one of my favorite coffee shops, take the dogs for a walk at some fun spot like Mt Tabor, or the Leaf Erickson Road, or Tom McCall Park and the East Esplanade across the Tilikum Crossing Bridge and stop at a food truck pod for lunch before or after the walk. I'd like to then relax a little and meet up with my sisters for dinner at one my favorite restaurants. My favorite food is probably any dessert! I would love make studying the night sky my hobby and learn more about the International Space station and the Astronauts that spend time there from an expert.
New Member Bios Coming!
We are:
Artists
Writers
Graphic Designers
Baseball fans
Tech gurus
Financial experts
Musicians
Nonprofit Founders
Laughers
Moms and Dads
Grandmas and Grandpas
Singles, couples and families
Long-distance bicycle riders
Gardeners
Change Makers
Dance party fans
Cooks
Storytellers
Doughnut lovers
Game enthusiasts
Joy finders
Readers
Pet owners
Activists
Advocates
Caregivers
Pizza eaters
Bookkeepers
Cocktail shakers
Board game players
Godmothers
Cider makers
Beer enthusiasts
Music lovers
Sour dough bakers
Movie enthusiasts
Superheroes!